What is New
Workshop on Statistical Methods for Applied Research
Training Programme (offline) on Statistical Methods for Applied Research with EZR (R-Programming)
November 23 and 24, 2023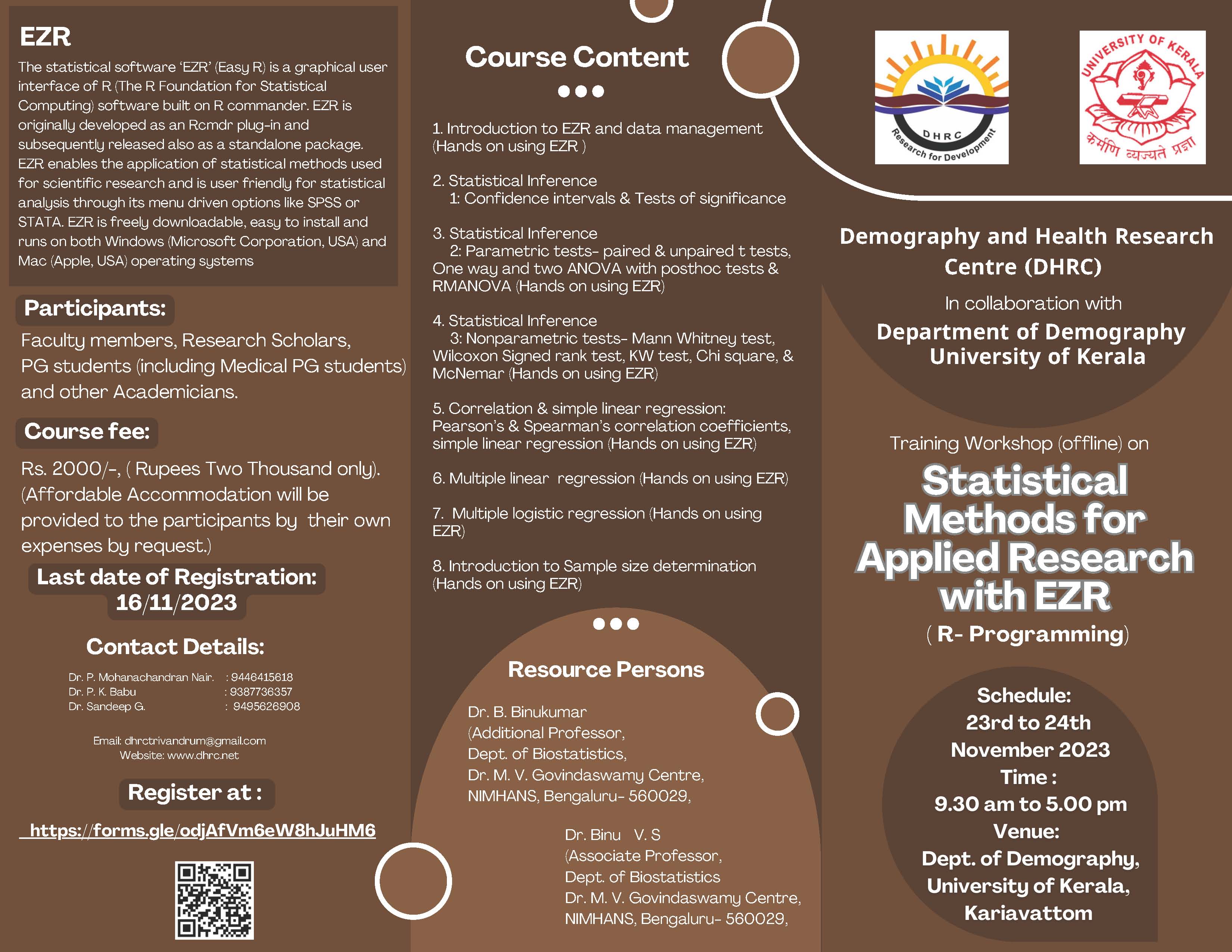 Download Brochure Registration
---
World Population Day 2023
Population and Sustainable Development
Demography and Health Research Centre (DHRC)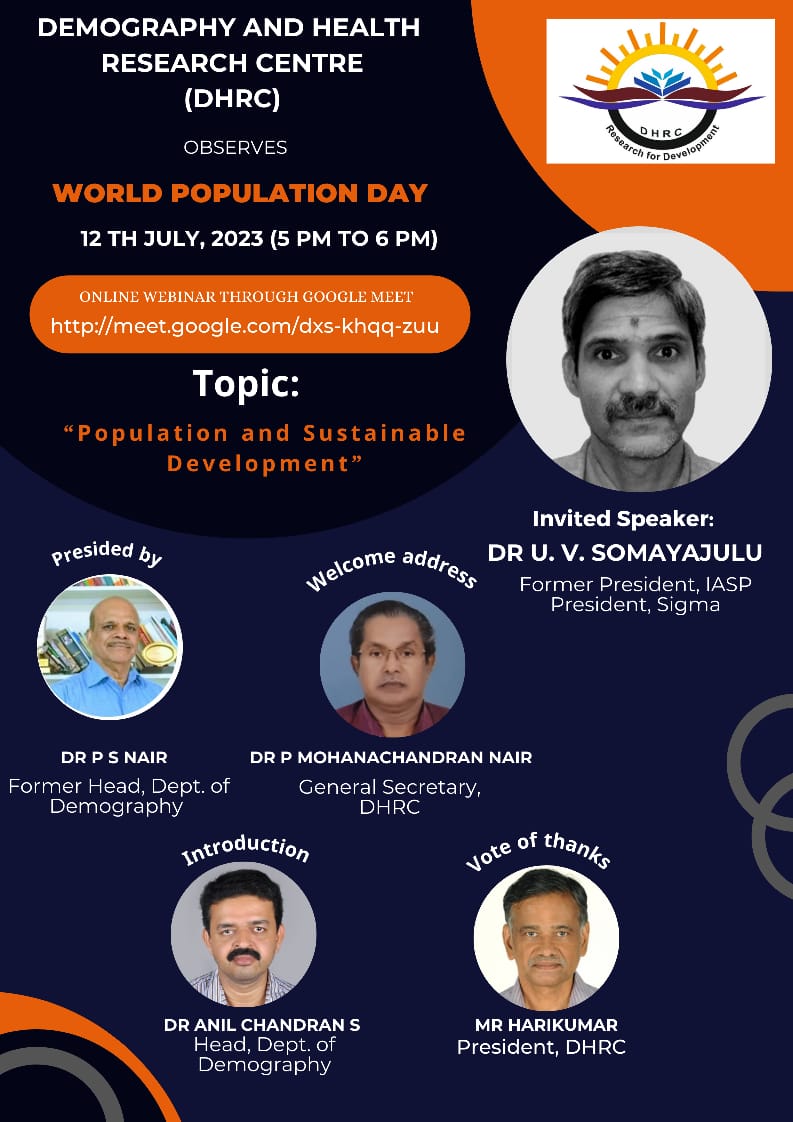 Online Webinar Through Google Meet

Meet link
---
Online Training Course On
Basic Statistics And Multivariate Analysis Using SPSS
Demography and Health Research Centre (DHRC)
In collaboration with Department of Demography, University of Kerala
Part-I: June 21-25, 2023 and Part-II: July 26-30, 2023
Course Contents:
Part I (June 23-27, 2023)
Descriptive Statistics

Measures of central tendency
Measures of dispersion and graphs

Small sample test, Chi square

Correlations with assumptions and examples
Simple Linear Regression

Sampling

Sampling methods
Sample size determination
Part –II (July 26-30, 2023)
Experimental Design (Large surveys. Health aspect)

Studies: Before and after
Case control and intervention, cohort,

Multivariate Analysis

Multiple regression-Linear
Logit regression

Multiple Classification Analysis
Factor analysis.
Path analysis.
Resource Person: Dr. C. P. Prakasam
Dr. C. P. Prakasam (MSc, DPS, Ph.D.) is a retired Professor from International Institute for
Population Sciences, Mumbai after serving three decades in the field of Demography.
Dr. Prakasam has teaching and research experience in the field of Public Health and Mortality,
Bio-Statistics, Computer applications to Demographic Data Analysis. He has published several research papers on various topics on Population Studies. He completed 35 research projects funded by Ministry of Health and Family Welfare, UNICEF, JHUCCP, ESCAPE.
Dr. Prakasam was in charge of the Data Centre and Computer Centre at the IIPS. He organized national and international workshops on "Development of Population Data Bases", and "Development of Knowledge assets through e-books". He was involved in NFHS and prepared state reports. He was in charge of POPIN, POPLINE and PO-ENVIS projects.
He visited China, Thailand, Indonesia, Sri Lanka, Ethiopia, and USA for teaching and training programs where in He has presented and organized database development programs. He was ex-President of Indian Association of Social of Social Sciences and Health (IASSH) and ex- Vice President of Indian Association for the study of Population (IASP).
Targeted Participants: Junior level Faculties, Research Scholars, PG Students (including Medical PG Students) and other academicians.
Schedule:
Part – I : June 23-27, 2023 Part – II : July 26-30, 2023
One session will be conducted daily (06:00PM to 08:00PM)
Course Fee: Rs.1000 (One thousand rupees only) per participant for each part. Those who wish to register for both parts together pay only Rs.1500 (One thousand five hundred only)
Contact Details:
Dr. P Mohanchandran Nair: 9446415618
Dr. P K Babu:9387736357
Dr. Sandeep G. : 9495626908.
Email: dhrctrivandrum@gmail.com
---
PUBLIC HEALTH CHALLENGES & OPPORTUNITIES AFTER COVID-19
4 and 5 MAY, 2023 (Hybrid Mode), at the Seminar Hall, Department of Aquatic Biology, University of Kerala, Kariavattom
Jointly Organised by
Demography and Health Research Centre (DHRC) and
Department of Demography, University of Kerala
Inauguration at 10:30 AM on 4th May 2023
---
Lecture series by Dr. Padma Mohan
Ex Senior Epidemiologist, Section for International Health Regulations, DGDSC, Ministry of Health, Oman.
on "Publishing Scientific Literature: Ethical Considerations"
7th and 8th, October, 2022
---
Online Training Course on Systematic Review and Meta Analysis
September 15-17, 2022
Demographic Health Research Centre (DHRC)
In collaboration with
Department of Demography, University of Kerala
Learning Objectives:
Understand the importance of literature review in research
Explore the systematic review protocol.
Understand the main components of systematic literature review and Meta Analysis
How to conduct a systematic review and meta-analysis
Resource Persons
Prof. Sreekumaran Nair
Professor and Head, Biostatistics, JIPMER, Puducherry
Statistical Editor, Chochrane Public Health.
Former Director, Public Health Evidence South Asia
Ratheebhai V.
Former senior Librarian and literature search strategy developer
Manipal Academy of Higher Education, Manipal

Harikumar P
Former Regional Health Information Supervisor, Directorate of General of Health Services
Governorate of Muscat, Ministry of Health, Sultanate of Oman
Former Lecture of Demography, Goa Medical College

Targeted Participants: Junior level Faculties, Research Scholars, PG Students (including Medical PG Students) and other academicians
Course Fee: Rs. 1000 (One thousand rupees only) per participant
Schedule: One session will be conducted daily (06:00 PM to 08:00 PM)

---
INAUGURATION OF THE CENTRE & OBSERVANCE OF WORLD POPULATION DAY
Dale & Time: July,2022, Monday, 3.30 pm
Venue: P.C. Sukumaran Nair Memorial Hall, Press Club, Thiruvananlhapuram
---